Say 'I Do" with Fairtrade and Ethical Wedding rings supporting the Jeweltree Foundation
Wedding rings can be made in White, Yellow, Rose or Green 9ct, 14ct 18ct Fairtrade gold, or Platinium. The plain band sizes start from 2mm upwards and can be made in flat, D shaped or court design.
Prices vary according to ring size, colour of gold, and price of gold at time of purchase. The diamonds come with a unique Jeweltree certificate.  Prices will vary according to the carat, clarity and colour.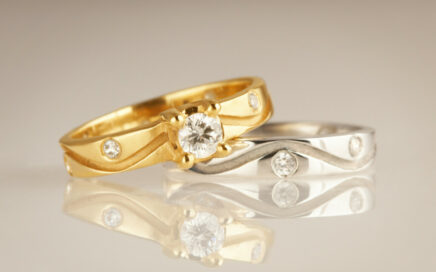 Seven diamonds follow the wave around the ring meeting a brilliant cut diamond that sits prominently in a claw setting.  Similarly the band matches the claw set with diamonds following a wave around the band.
Prices start from £1,495 for a 0.24 carat (2mm)  set diamonds in 18ct Fairtrade Gold.  
Prices start from £2,800 for a 0.47 carat (4mm) claw set diamond in 18ct Fairtrade Gold.  
If desired, this ring is also available in other precious metal and stone variations of your choice.  Click below for further details.